Montreal Canadiens Top 5 Draft Busts in Franchise History
Montreal Canadiens Top 5 Countdown: Biggest Busts in Franchise History
Montreal Canadiens are the next team in a series dedicated to the top five draft busts in franchise history. Over the next while, we plan to explore all 30 teams (in alphabetical order) big misses on the draft floor since their inception.
For those expansion teams from the early and late 1990s into 2000, their franchise draft history is obviously skewed in comparison to older teams. Even with a limited sample size to choose from, each and every franchise has been victimized by the imperfect art of selecting 18-year-old prospects.
Having won a total of 24 championships, 22 of them since the NHL era, Montreal shares the richest history of any franchise.
The Canadiens are the fourth original six team to be featured, and much like the others, we present an extended version of the honorable mentions.
Honorable Mentions:
Ray Martyniuk – 5th overall in 1970
Cam Connor – 5th overall in 1974
Robin Sadler – 9th overall in 1975
Dan Geoffrion – 8th overall in 1978
Alain Heroux – 19th overall in 1982
Alfie Turcotte – 17th overall in 1983
Mark Pederson – 15th overall in 1986
Eric Charron – 20th overall in 1988
Lindsay Vallis – 13th overall in 1989
Brent Bilodeau – 17th overall in 1991
David Wilkie – 20th overall in 1992
Brad Brown – 18th overall in 1994
Matt Higgins – 18th overall in 1996
Jason Ward – 11th overall in 1997
Eric Chouinard – 16th overall in 1998
Marcel Hossa – 16th overall in 2000
Louis Leblanc – 18th overall in 2009
Jarred Tinordi – 22nd overall in 2010
Montreal Canadiens Top 5 Draft Busts
5. David Fischer – 20th overall in 2006
Even though Montreal missed on players selected earlier than 20th overall, Fischer ranks fifth due to the quality of prospects that came off the board shortly after in 2006.
Fischer was a two-way defender from the University of Minnesota. After spending two years with ECHL Florida, David left North America to play in Germany. He has since spent the last four seasons there (three of them in the DEL). David Fischer never played a single NHL game, and only appeared in two AHL games.
Picks after Fischer: Claude Giroux (PHI) – 22nd overall, Semyon Varlamov (WSH) – 23rd overall, Patrik Berglund (STL) – 25th overall, Nick Foligno (OTT) – 28th overall, Michal Neuvirth (WSH) – 34th overall, Jamie McGinn (SJ) – 36th overall, Jeff Petry (EDM) – 45th overall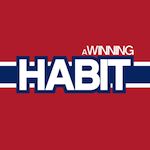 Want your voice heard? Join the A Winning Habit team!
Write for us!
@CanadiensMTL Jose Charbonneau #NHL15Subban pic.twitter.com/ngTRoPFs82

— astrotech lopez (@Jessicuhhh) May 22, 2014

Charbonneau was a highly productive QMJHL right winger for the Drummondville Voltigeurs during the early to mid 1980s. He had immediate success at the minor level with AHL Sherbrooke, but that production unfortunately never translated to the NHL.
He spent time in the AHL, IHL, and Germany before joining the Canucks organization in 1993. After two years in Vancouver, Jose left for Germany and spent his final six years of pro hockey playing in the DEL.
Jose Charbonneau totaled 71 career games (22 points) between Montreal and Vancouver.
Picks after Charbonneau: Derek King (NYI) – 13th overall, Calle Johansson (BUF) – 14th overall, Sean Burke (NJ) – 24th overall, Joe Nieuwendyk (CGY) – 27th overall, Mike Richter (NYR) – 28th overall, Eric Weinrich (NJ) – 32nd overall
Even with 551 career NHL games under his belt, it's safe to call Mike Komisarek a bust. He had one decent NHL season which was unfortunately overshadowed by Montreal fans making a mockery of the All-Star voting process to ensure his inclusion.
If it weren't for the miss on Perezhogin, Komisarek might have narrowly escaped making the top five. You just can't afford to miss on two picks like this though. The pair could have ranked even higher if the 2001 draft class were a little stronger near the top.
Komisarek totaled 81 points in 551 career NHL games with Montreal, Toronto, and Carolina.
Perezhogin spent three short years in North America before returning to Russia. He had 34 points in 128 career NHL games. Alexander Perezhogin, 32, has spent the last eight years in the KHL and is still a productive scorer to this day. He's coming off 36 points in 56 games with Omsk Avangard in 2015-16.
Picks after Komisarek: Tuomo Ruutu (CHI) – 9th overall, Dan Hamhuis (NSH) – 12th overall, Ales Hemsky (EDM) – 13th overall, R.J. Umberger (VAN) – 16th overall, Marcel Goc (SJ) – 20th overall
Picks after Perezhogin: Dave Steckel (LA) – 30th overall, Derek Roy (BUF) – 32nd overall, Tim Jackman (CLB) – 38th overall, Fedor Tyutin (NYR) – 40th overall, Mike Cammalleri (LA) – 49th overall, Chris Thorburn (BUF) – 50th overall, Jason Pominville (BUF) – 55th overall, Jay McClement (STL) – 57th overall
2. Terry Ryan – 8th overall in 1995
Terry Ryan was a highly touted prospect from St.John's, Newfoundland who was coming off a 110-point season with the Tri-City Americans (WHL) in 1994-95.
High expectations quickly turned into disappointment after it became clear Ryan would be nothing more than a productive minor league power forward.
After being cut loose following the 1998-99 season, Terry bounced around the AHL, IHL, WCHL, ACHL, and ECHL before finally retiring after the 2002-03 season. In all fairness, bad health began to plague Terry Ryan and eventually forced him out of hockey.
Terry played a total of eight NHL games, logging 36 penalty minutes.
Picks after Ryan: Kyle McLaren (BOS) – 9th overall, Radek Dvorak (FLA) – 10th overall, Jarome Iginla (DAL) – 11th overall, Jean-Sebastien Giguere (HRT) – 13th overall, Jay McKee (BUF) – 14th overall, Martin Biron (BUF) – 16th overall, Petr Sykora (NJ) – 18th overall, Brian Boucher (PHI) – 22nd overall, Alexei Morozov (PIT) – 24th overall
276 points in 556 career NHL games is hardly the stat-line one would expect from a first overall selection. Doug spent less than four years playing with Montreal, posting a single season career-high of 55 points in 1982-83.
Wickenheiser was eventually packaged with two other players and sent to St.Louis in December 1983 in exchange for Perry Turnbull. He would spend nearly four years with the Blues before closing out his final two seasons between New York (Rangers) and Washington.
Picks after Wickenheiser: Dave Babych (WPG) – 2nd overall, Denis Savard (CHI) – 3rd overall, Larry Murphy (LA) – 4th overall, Paul Coffey (EDM) – 6th overall, Mike Bullard (PIT) – 9th overall, Brent Sutter (NYI) – 17th overall