NHL Opening Night: Who Can Jump In Or Fall Out of Playoffs From Last Season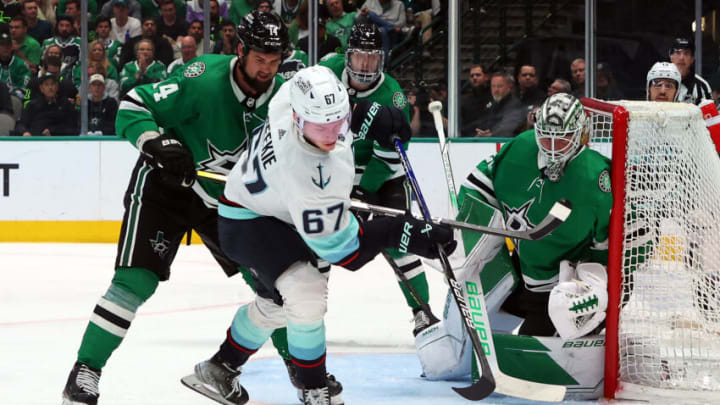 DALLAS, TEXAS - MAY 15: Morgan Geekie #67 of the Seattle Kraken tries to take a shot on Jake Oettinger #29 of the Dallas Stars in the second period in Game Seven of the Second Round of the 2023 Stanley Cup Playoffs at American Airlines Center on May 15, 2023 in Dallas, Texas. (Photo by Richard Rodriguez/Getty Images) /
From the Pittsburgh Penguins who barely missed the playoffs last year, to the surprising 100-point campaign of the Seattle Kraken in their second year, the NHL is a very unpredictable league.
With the puck being dropped to open up the NHL season tonight, I thought it would be fun to look at last year's playoff picture as well as teams that missed the playoffs and pick out three teams that missed the playoffs that could find themselves in, and teams that made the playoffs last year who could drop out.
Teams that made the playoffs last season, but could miss this year:
New York Islanders: The Islanders qualified as the number one wild card team in the East last season, but had several teams close behind them by the end of it. They ended up losing to the Carolina Hurricanes in the first round, 4-1.
New York was able to retain some of their pending UFA's and free agents to be in Scott Mayfield, Semyon Varlamov, Oliver Wahlstrom, and of course the big one in Ilya Sorokin. Other than that, New York lacked adding any significant offense to the squad.
With the NHL's identity continuing to grow as an offensively skilled league, it'll be interesting to see if the Islanders heavy defensive focused style of hockey holds up this season. If Ilya Sorokin is not 100% himself for the whole year, New York could take a step back for failing to adjust where the league is headed.
Seattle Kraken: Seattle is a very difficult team to predict, simply because we have seen two very different versions of them in their first two years of existence. They're one of the most debated team among fans right now pertaining to the argument of whether last year a case of players having career years or if their production was real. Seattle has talent on their roster to make the playoffs again but could fall off if their key contributors prove that last year was a one off.
Winnipeg Jets: The Jets would have been a clear an obvious choice on this list 24 hours ago, but they boosted the leagues confidence in them by signing Connor Hellebuyck and Mark Scheifele to identical extensions.
In my mind, Winnipeg still is a team that should be looked at as one that could fall out of the playoffs, because of the number of teams behind them that have a shot. Calgary, Vancouver, and St Louis are three teams that underperformed last season that have something to prove. Retaining Hellebuyck and Scheifele massively helps this team but keep an eye out for the three teams listed above.
Teams that missed the playoffs that could make it this season:
Pittsburgh Penguins: This is a fairly obvious choice, but if you don't know why I have them on the list, it's pretty simple. Adding the Norris Trophy winner to pair with Kris Letang is going to create quite the scoring touch on the blueline. You still have Crosby; you still have Malkin. Pittsburgh only missed the playoffs by one-point last season.
With one of the oldest rosters in the league, it's clear the Penguins are in win now mode. I think they're an obvious choice to get back in the playoffs and I think they'll do it.
Buffalo Sabres: Just like Pittsburgh, the Sabres missed the playoffs by one-point last season. There is almost nothing to not like about this team, maybe outside of the goaltending. With the new contract extension for Rasmus Dahlin, and another year of experience for Tage Thompson and their young stars, this could be the season that ends the Sabres 12-year playoff drought.
Calgary Flames: Everything that could go wrong in Calgary last season went wrong. Whether it was a bad locker room environment due to coach Darryl Sutter, or because of a down year from Jonathan Huberdeau or Jakob Markstrom. Whatever the case was, a new coach should get Calgary back to where they want to be.