2 highly touted rookies scored their first career NHL goals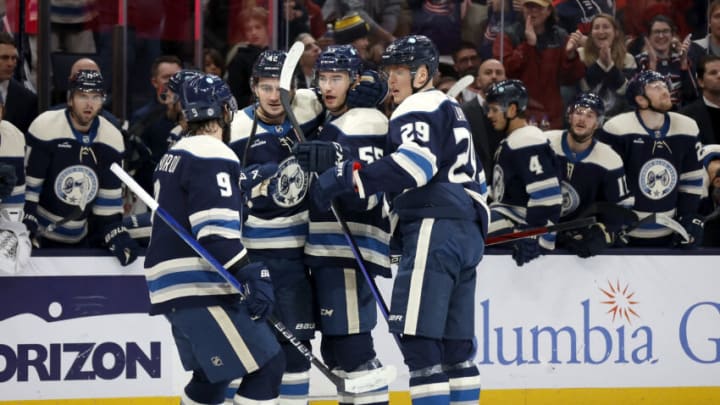 COLUMBUS, OHIO - OCTOBER 14: David Jiricek #55 of the Columbus Blue Jackets is congratulated by his teammates after scoring his first career NHL goal during the second period of the game against the New York Rangers at Nationwide Arena on October 14, 2023 in Columbus, Ohio. (Photo by Kirk Irwin/Getty Images) /
The NHL is loaded with lots of very young talent. It is as good as it's ever been in the league. Even a lot of the established superstars like Connor McDavid, Auston Matthews, Nathan MacKinnon, Cale Makar, and Jack Hughes amongst others are all young.
There are certainly a lot of good young rookies coming in this year and they are already off to good starts. We've seen a lot of first points and goals so far this season and a couple of more were added to the mix on Saturday night.
Auston Matthews took over in the game between the Toronto Maple Leafs and Minnesota Wild, but a first career goal was notable for the latter. Marco Rossi scored his first of his NHL career in this game that ended up being a 7-4 loss for Minnesota.
Rossi was a highly touted first-round pick by the Wild in 2020 but he has taken a bit to reach the NHL on a first-time basis. Some off-the-field health issues were a big reason for that but he looks great and ready to go. Hopefully, this is the first of many for him.
There were multiple young players who had first-career NHL goals on Saturday.
Over in New York City, the New York Rangers hosted the Columbus Blue Jackets for an early-season Metropolitan Division battle. The Blue Jackets took a 5-3 win over them in what turned out to be a great game for Ohio's team. Something extra special happened as well.
NHL top prospect David Jirecek didn't break camp with the team but he was called up due to an injury to Zack Werenski and he made his NHL debut. In this game, he scored his first career goal to the delight of all Blue Jackets fans.
This is a big moment for him as there is a lot of pressure for him to be one of their future star defensemen. He can contribute on offense as shown by his first goal so the sky is the limit. He is a big part of their future.
Seeing these NHL rookies add to the scoresheet for the first time is amazing for the league. A lot of them have an incredibly high ceiling in the NHL which is great.
All of them are highly skilled and will attract tons of fans to the game. There are a few more players that will score notable first goals this season and they will be very fun to see as well. Keep your eye out.