NHL Weekly Power Rankings: The Champs Start Out On Top After Week 1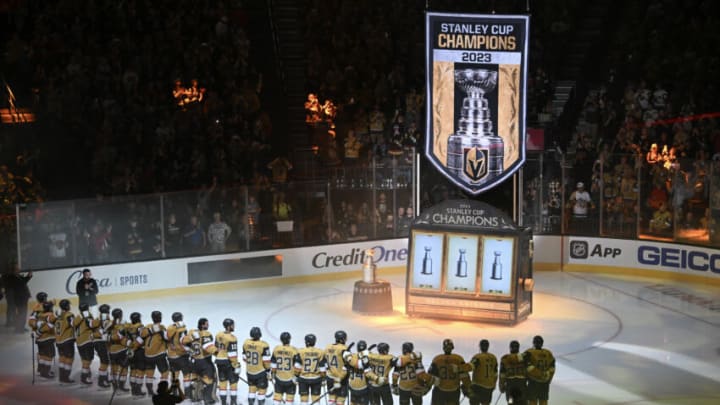 Vegas Golden Knights (Photo by Candice Ward/Getty Images) /
Vegas Golden Knights (Photo by Candice Ward/Getty Images) /
Today is the first day of the 2023-24 NHL weekly power rankings here at Puck Prose! The start of a new year often leads to some big surprises the first few weeks in the power rankings, so let's dive in with the list!
NHL Weekly Power Rankings: The Champs Start Out On Top After Week 1
32. San Jose Sharks
Through four games the Shark look bad. Which might be the plan for the season, but at the same time the players that need to be playing well on this team have looked pretty bad.
Through four games, Anthony Duclair has just four shots on goal and one goal. Mike Hoffman has just one assist and Alexander Barabanov has just two shots on goal despite playing on average 16:23 minutes a night.
The Sharks were supposed to struggle, but at the same time, the players that were added to potentially be used as trade bait later in the season have not looked good. At least Filip Zadina has two goals.
31. Montreal Canadiens
Gotta feel for the Canadiens. Obviously this was not going to be a playoff team, but the Canadiens were looking to take a step forward this season with their young players building more chemistry and competing. Now, Kirby Dach is out for the year after suffering a season ending lower body injury.
30. Columbus Blue Jackets
The Blue Jackets might have beat the Rangers, but losing to the Red Wings and Flyers is a bad start for a team hoping to make the postseason this year. Out of all the teams in the bottom four I think the Jackets have the most potential to rise in the rankings, but they haven't looked great so far.
29. Washington Capitals
The Washington Capitals have not looked good through three games, but that is not the big issue in Washington. Alex Ovechkin has not registered a shot on goal in each of the last two games. This might not be something to worry about just yet, but if he has not registered a goal by next week the Capitals might be in trouble.