William Nylander is one of the best players in the NHL right now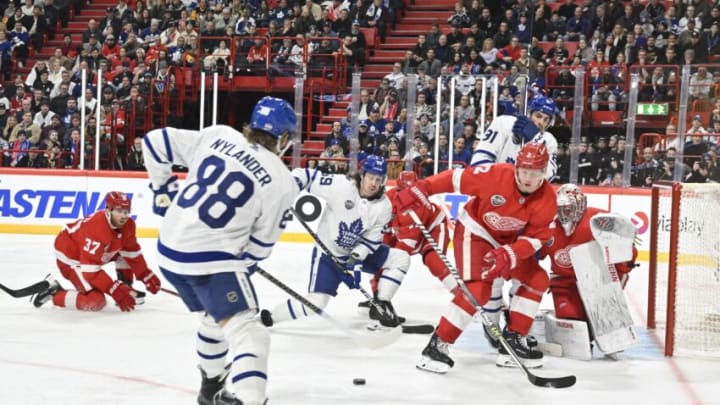 Toronto's William Nylander attempts to score during the NHL Global Series Ice Hockey match between Toronto Maple Leafs and Detroit Red Wings in Stockholm on November 17, 2023. (Photo by Henrik Montgomery/TT / various sources / AFP) / Sweden OUT (Photo by HENRIK MONTGOMERY/TT/TT NEWS AGENCY/AFP via Getty Images) /
The Toronto Maple Leafs took on the Detroit Red Wings on Friday afternoon. It wasn't just your typical game, however, as it took place in Sweden. There are a few Swedish players on both sides who are getting the opportunity to play at home in these games. Guys like William Nylander and Lucas Raymond lead the conversation there.
Detroit got things started in this game. Daniel Sprong was awarded a penalty shot because the puck was covered by a skater's glove in the blue paint. He scored a beautiful goal to give his team the 1-0 lead.
Just a couple of minutes later, Raymond scored in front of his hometown Swedish fans. This was the second straight game that he scored in Sweden as he put one in the net of the Ottawa Senators on Thursday.
Detroit took this 2-0 lead in the second period after a scoreless first and it would carry into the third period. 3:50 into the final frame, however, Nylander extended his point streak to 16 games (every game this season so far) by making a sick pass to Tyler Bertuzzi who got Toronto on the board.
William Nylander is one of the best players in the NHL right now
That wasn't it for Nylander in front of his hometown fans though. He scored a power-play goal about ten minutes (of game clock) later. Getting the game tied after losing 2-0 was very impressive for the Leafs and Nylander was right in the middle of it all.
About a minute and a half later, Tyler Bertuzzi made an amazing pass to John Tavares who scored what stood as the game-winning goal. The Leafs won 3-2. Nylander picked up the secondary assist on the play because of his work so it was a nice three-point effort for him.
In his homeland, he was honored after the game as the number one star. It was incredible to watch. Now, he is second in the NHL with 25 points. Nylander is firmly one of the best players in the entire NHL.
Now, the Red Wings are done in Sweden after going 0-1-1 but the Maple Leafs are staying there for one more game. They will take on the Minnesota Wild on Sunday. We'll see what Nylander can do in this next game. He is truly sensational.