Why Peter DeBoer's Coaching Works For The San Jose Sharks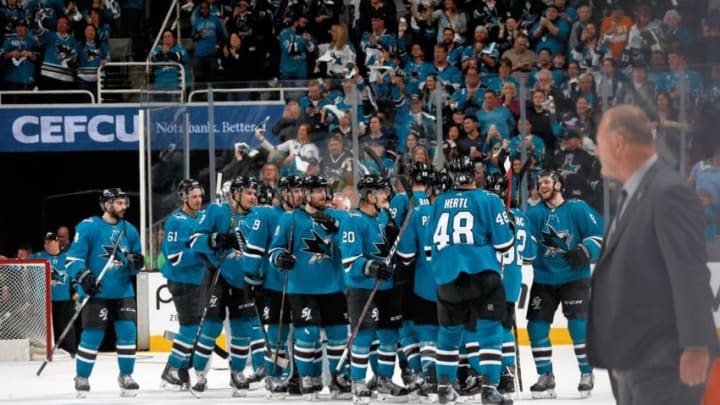 SAN JOSE, CA - MAY 2: The San Jose Sharks celebrate a win against the Vegas Golden Knights in Game Four of the Western Conference Second Round during the 2018 NHL Stanley Cup Playoffs at SAP Center on May 2, 2018 in San Jose, California. The Sharks defeated the Golden Knights 4-0. (Photo by Don Smith/NHLI via Getty Images) *** Local Caption *** /
Third time seems to be the charm for head coach Peter DeBoer, now working as the bench boss on his third NHL team the San Jose Sharks. San Jose has remained competitive and consistent during his entire tenure, and it's not only because of the great trades that have been sent their way.
For the past four seasons, the main bench boss for the San Jose Sharks has been veteran head coach Peter DeBoer. He replaced longtime coach Todd McLellan after a seven-season tenure in the Bay Area ended with an unceremonious year without a playoff berth.
McLellan in San Jose was much like Barry Trotz tenure with the Nashville Predators. While both were noted for their longevity and consistency, they weren't able to reach the ultimate peak and lead their team to a Stanley Cup. McLellan has moved onto coach the Los Angeles Kings while Trotz eventually accomplished the feat later on with the Washington Capitals. They were always good, but not good enough.
More from Puck Prose
DeBoer is a bit of a coaching journeyman. His NHL coaching experience began with trying to turn around the perennially failing Florida Panthers. He got them close to the playoffs in his first season in 2008 what could be considered a moral success, but was fired in 2011 after no improvement.
Next, DeBoer was hired by the New Jersey Devils and led them to a Stanley Cup final in their first season, losing to the Los Angeles Kings. No one, not two, but three years out of the playoffs, DeBoer was shown the door again. He wasn't unemployed for long, becoming McClellan's successor that May as San Jose's new bench boss.
In many ways, DeBoer's first year with a new team follows the same pattern. He inherits a team that missed the playoffs the previous year and exceeds expectations in his first year.
With the Devils and Sharks, he even led them to the Stanley Cup finals in his first year. DeBoer's lack of continued success is not entirely his fault. Poor drafting and the departures of Zach Parise and Ilya Kovalchuk take most of the blame, but his lack of adaptability in his coaching didn't help either. That can be considered a flaw, but it was that style of coaching that led the Devils to the 2012 Stanley Cup final and his continued success with the Sharks.
DeBoer may fly under the radar, but his greatest strength is that he knows how to balance a team with age diversity. He knows how to create a mix of veteran forwards and young guns all contributing the same way in the lineup. Yes, every team wants a mix of young and old, but give DeBoer a roster where the same is expected from a 35-year-old player as it is a 25-year-old player and he'll thrive.
First example – look at the 2012 New Jersey Devils. Despite their advanced age, DeBoer was able to get Kovalchuk to produce his best year in a Devils sweater and got a career-best for Zach Parise at that point. The youth was lacking, but then Devils Adam Henrique and Alex Ponikarovsky all played integral parts.
As his best players slowly left, instead of trying to utilize what few youthful weapons he had, DeBoer continued to lean heavily on his aging veterans in jersey which at this point was a ragtag group of the likes of Patrik Elias, Ryan Clowe, Michael Ryder, and past his prime Jaromir Jagr.
His mishandling of former fourth overall pick defenseman Adam Larsson was speculated to have hampered the left-handed player's development. Not so much different was how DeBoer handled Mirco Mueller's development in San Jose.
When DeBoer did decide to use youth, he overused the wrong players. A year off of first-round pick Stefan Matteau's entry-level contract was wasted on a short, almost production less tenure in jersey.
During the 2013-2014 there was the weird transition of leaving the likes of rookie defensemen Eric Gelinas and Jon Merill off the initial roster, only to call them up and overuse them throughout the season.
There were also rumors of bigger problems behind the dressing room doors as well. Former Devils defenseman from the 2012 cup run Henrik Tallinder also took public his dislike for DeBoer. All things considered, it was time for him to move onto sunny San Jose.
Now enter DeBoer in San Jose. With the Sharks, he was looking at a roster similar to his first year in jersey, a mix of legendary and still productive veterans in Joe Thornton and Patrick Marleau, along with young all-stars in the making of Tomas Hertl and Logan Couture. The Sharks only real concern going into that season, their goaltending, was quickly renovated in the three-team trade that sent Martin Jones to San Jose.
Even though he continues to be cup less, even though the roster in San Jose has changed, it still has the same levels of youth, talent, and experience that make DeBoer's coaching style effective. Gone is Marleau, but in came Joel Ward. He inherited a much better defense in San Jose than he ever had in New Jersey, due to the likes of Brent Burns and the later acquisition of Erik Karlsson.
Even though younger than some of the players he coached in jersey, by the time he arrived in San Jose via trade, Evander Kane was beginning to approach veteran player status. While with the Thrashers/Winnipeg Jets and Buffalo Sabres, both were young rebuilding teams leaning heavily and waiting for the young talent to finally deliver.
Kane has his own personality uses that arguably hamper his development, but the pressure didn't help. Now that he's on a successful NHL team in the sharks, he's been allowed to fall back from the spotlight and expectations and finally starting to reach the potential teams saw from him on draft day.
Once the scales begin to be tipped to too young or too old for the teams DeBoer coaches, he loses his steps and his teams suffer. As long as his players are on both sides of the age spectrum, he's one of the NHL's most underrated coaches. His name may not be etched on the Stanley Cup, but that doesn't mean his formula doesn't work.